18 aug

Expand your plant collection
Expand your plant collection
Expand out your plant collection, I hope I can inspire you! Since the lockdown started I've started to become more and more obsessed with plants and plant pots. So when Jellina asked me to write an inspiration blog. I almost started hyperventilating. I was that excited to get a chance to show you how you can expand your plant collection for free and make your own plant pots out of items you may have never thought of… 
Really, I think it's safe to say many of us are spending a lot more time at home these days. I live in Spain in a village next to Barcelona and the corona crisis hit us hard, we were confined at home for months and couldn't go out. And I decided to embrace this period by seeing it as a time to discover new interest and hobbies and dedicate more time to DIY projects.
Spread your plant collection
For me for years plants were something I admired but couldn't really have too many of due to moving around a lot in my twenties. Now that I settled down; I was on a mission; finally creating that urban jungle I dreamt of. Furthermore with all the shops closed this seemed like a plan that would have to be put on hold for the time being. But then I found a way to get more plants without leaving my house! 
Propagate those plants! 
Propagation is growing new plants by taking cuttings of an existing plant and rooting them in water or soil to grow a new plant. Totally free and in some cases (pothos, monstera and spider plants; I'm looking at you!) SUPER easy! This way you can expand your collection and now that we are allowed outside again; it's been great to swap these with friends, family and colleagues for different plants. I even found myself bonding with people I had never talked to before! 
DIY So let me show you some of the things I did and hope you will give it a try for yourself! 
Plant pot with knitted cover 
My grandma taught me how to knit and I just love to knit while watching YouTube, (this is the exact reason you won't see any difficult patterns on my plant pots!) If you didn't have a grandma who taught you you can look up tutorials on Netflix; It's the same as knitting a scarf but not as long. (If you don't want to knit you can use any kind of fabric you already have) Later I hot glued these to water bottles I cut in half and added leather details from some scraps I had lying around. To finish off some designs I cut up pieces of jewellery I never wore anymore and hot glued those on too. 
You can use all kinds of things as plant pots; as well, empty candle holders, yogurt pots, food storage containers, bins, it doesn't have to be pretty because it will be covered by the knitted material anyway. 

Driftwood planters 
Anyway, you have to look around a lot for this and luck plays a big role but when you find a piece you like – it's really worth it! My dog got me the most beautiful piece during one of our walks (he has a great eye for these things! 😉
I first cleaned mine and then let it dry out completely for a month. Then I covered it in varnish and added a little soil and some succulent propagations. Succulents are great because they require very little care. I just cut off the tops and stuck them in the soil. They will start to grow roots. To water them I just spray every now and then – trying not to get the wood too wet.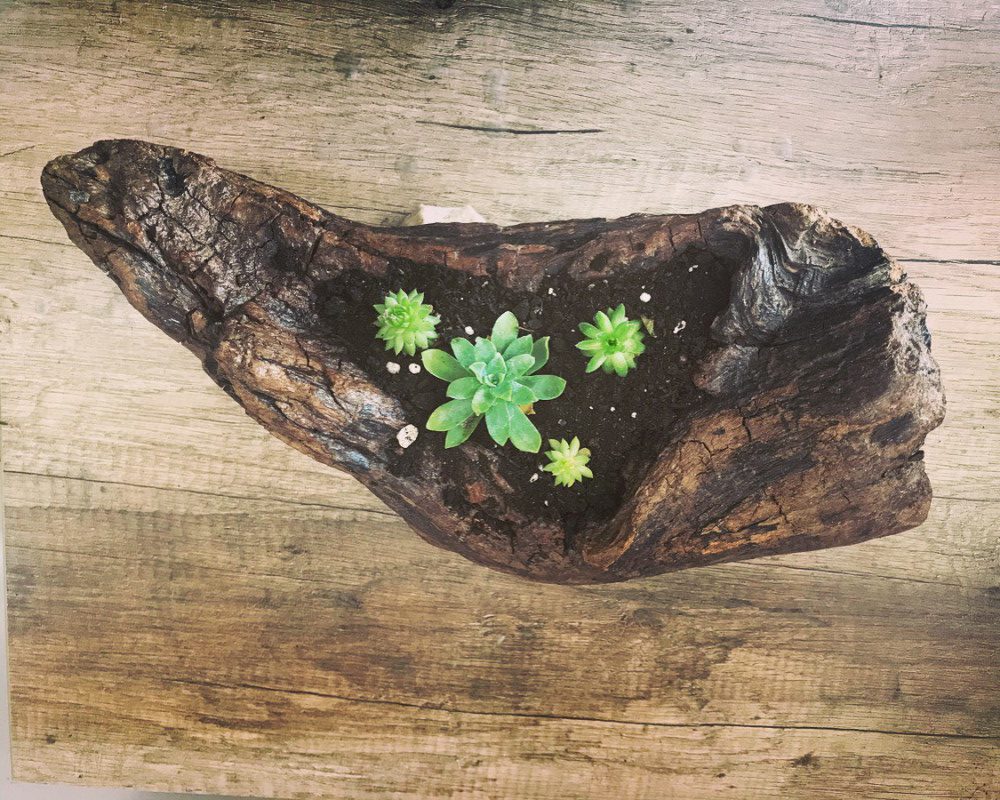 Quick make-over
And finally; if you don't fancy looking for driftwood or take on a project that takes more than a few minutes; I have one last trick up my sleeve that instantly brings a rustic, original touch to your home. All you need is a plant pot, rope and a glue gun. Wrap the rope around the plant pot and voila! Done! Just try not to burn your fingers on the glue like I did many times 😉


Expand your plant collection
Did you love my 'expand your plant collection blog'? As a matter of fact I hope you liked these and if you try any of them please show me, I would love to see! 
Greetings Lynsey,
Head over to my Instagram for more!@casacatalands 
Wil je meer inspirerende Urban Jungle blogs lezen? Check dan even deze
link