24 jul

Urban jungle interior
Urban jungle interior
Urban jungle interior, in this blog written by Natasha you can read all about having an urban jungle interior !
There's nothing more soothing then shutting the door to the outside world. And submerging myself into the tranquility of our jungle home. My names Natasha and I'm a proud plant Mama from London who works as a Digital Creator and product stylist. We've lived in our petite little paradise for 4 years now and throughout the years. Our home has slowly transformed into a vibrant jungle, bursting with nearly 400 happy houseplants!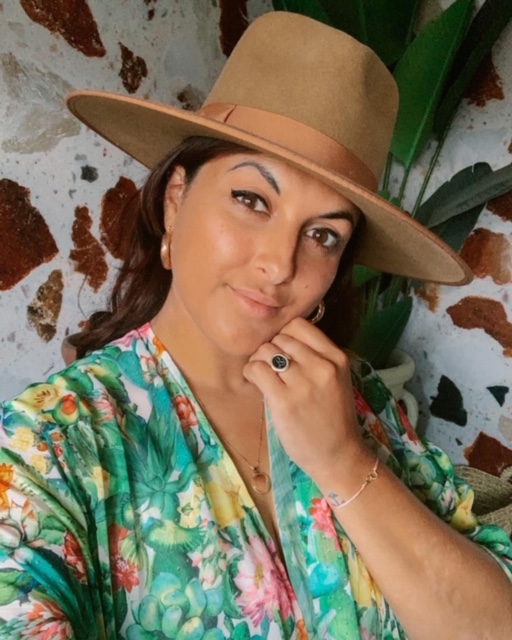 I love to share my affordable DIY projects & tutorials
Every corner of our home has had a jungle injection and I'm really proud that a lot of the work has been completed by ourselves. On my Instagram page (
@La_Sidhu
) I love to share my affordable DIY projects & tutorials from everything from creating live plant walls, to stencilling to create a tile effect. Join me now on a little jungle tour, where I'll show you some of my favourite spots and share my top tips and tricks for creating a heavenly zen space at home.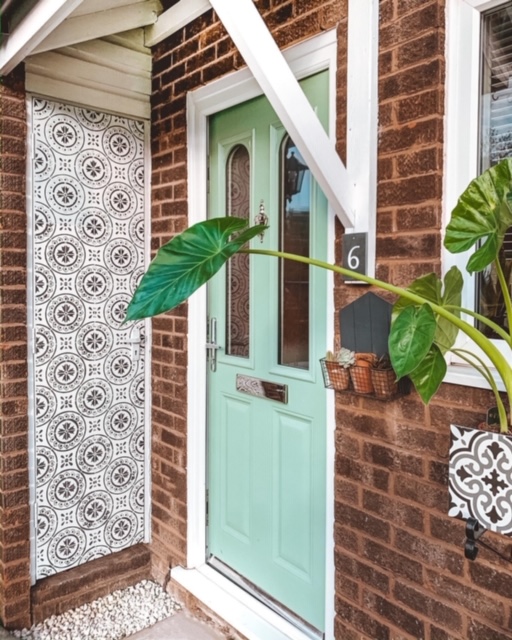 Living room & Diner
The living room is the heart of our home and I always knew that I wanted the space to be soothing and inviting, yet still pack a powerful punch. I'm always really flattered when people first spot pictures of my home, and find it hard to believe that it's actually in London and not somewhere much more exotic! I'm always hugely inspired by my travels and adventures, so our jungle home has recently had a little desert injection which was heavily inspired from my time in Bali. And i am not a huge fan of bright, primary colours ~ instead. Really i prefer to experiment with a much more muted hue and really place emphasis on layering the space with texture.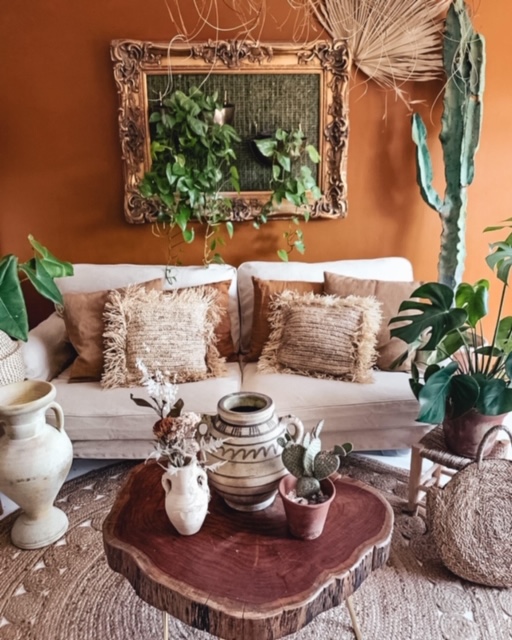 Some of my favourite natural materials are raffia, jute, clay, seagrass and concrete
I'm always drawn to soft palettes so for our main wall, I wanted to backdrop the seating area with a really warm, earthy tone and this gorgeous shade of rich cinnamon and terracotta does the job perfectly! I love how the paint colour changes in the light and it really transports me back to the dimly lit, romantic riads of vibrant
Marrakesh
.
Not only are natural materials a great option for interiors with regards to sustainability and protecting the planet, they also had an abundance of texture and create depth within the space. Some of my favourite natural materials are raffia, jute, clay, seagrass and concrete ~ all which play a huge part in perfecting our paradise home!
As our 'urban jungle interior' home isn't huge, we sadly don't have space for a separate dining area, so instead we created a cosy corner which also doubles up as a work space during the day as I work from home. This terrazzo effect table  was actually a second hand desk  find that I brought for £20 and then revamped using vinyl to create a much more unique finish. We have woven natural oak dining chairs on one side, and a long woven bench on the other which is always great for entertaining and fitting loved ones comfortably around the table.
Plants hang from every corner, shelf and table and I love to style the long luscious leaves in a way that it really makes you feel like your dining deep inside the jungle. I've always preferred leafy greens to flowers, and I feel that they add an instant touch of exotic to the living space.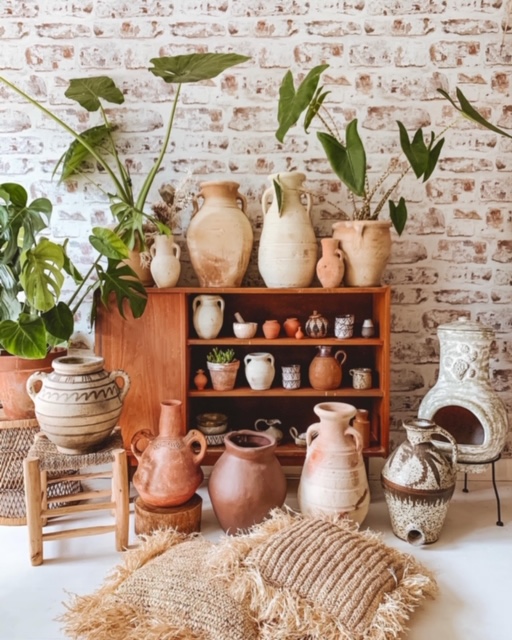 I'm a HUGE lover of treasure hunting
I'm a HUGE lover of treasure hunting for second hand finds and have travelled to fleas all over Europe looking for bargain beauties that I can bring back to the jungle and give a new lease of life to.
This vintage dresser was a bargain find at £19 and every few weeks I alternate the styling to showcase my latest finds.
Earthware, pottery and vessels are my latest love and I feel like they really pop when styled with my plants. I love how each piece is imperfectly perfect and really adds texture to our urban jungle interior.
For as long as I can remember, I dreamed of owning my very own vintage bamboo hanging chair. I think this was a good match, along with my urban jungle interior style! One day my Mum called for say there was one hanging in the window for sale at our local charity shop and I literally ran straight there to claim it! This was another bargain find at £65 and is my favourite spot to sit in and watch the world go by.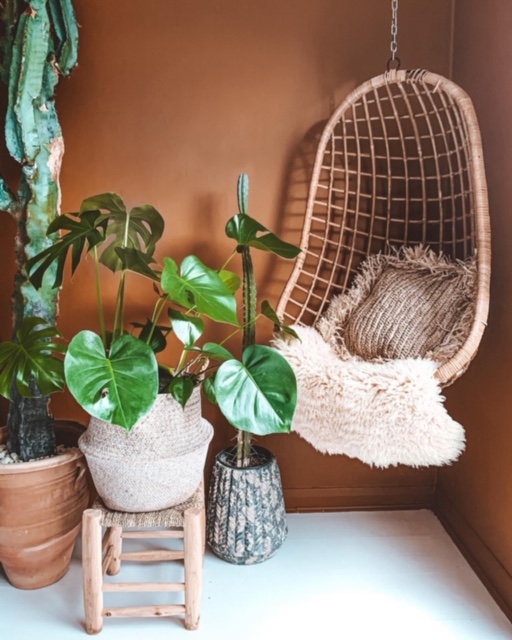 Bedroom style
The vision I had for our bedroom was a serene hidden Riad, nestled in the depths of Morocco. I really wanted to space to add serenity to our bed time and morning ritual and this therefore is one of my favourite parts of the jungle.
I wanted to create a feature of the ceiling, so created this terrazzo effect using wall decals.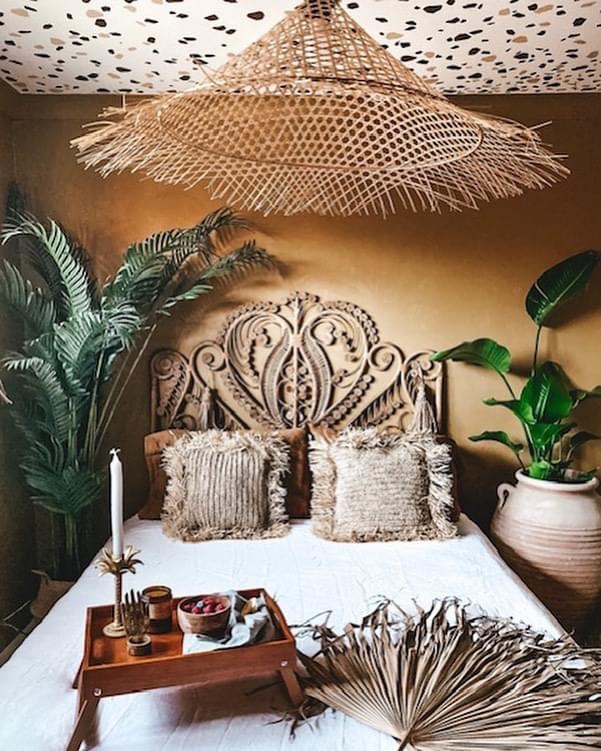 The bird of paradise plant is one of my all time favourites and nothing beats spotting a new leaf uncurling on this gorgeous green giant. I'm obsessed with linen and my sleep quality has completely transformed since we invested in this bed set of linen dreams. Around the room, you'll find lots of raffia and bamboo which I really feel softens the space and we also have a water feature opposite the bed which creates a zen slice of heaven in the evenings.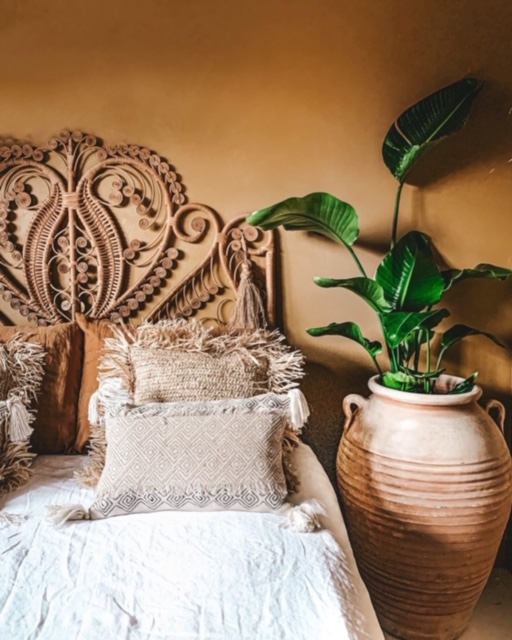 I love to add layers to the space by incorporating textiles and fabrics. The cushion stacks add a different dimension to the space and add a touch of luxury comfort. The palm leaf wall hanging reminds me of our Bali adventures and is also a really affordable feature to add a statement focal point to the wall.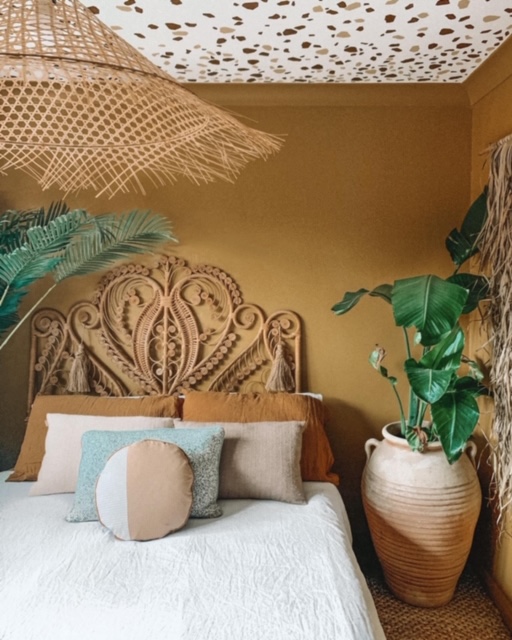 My wardrobe style tends to reflect my interior
Our second bedroom was going to waste so we transformed the space into a work area and a dressing room.
I collect lots of vintage fashion and felt they were wasted hidden behind wardrobe doors, so the open rails helps to showcase my treasures. My wardrobe style tends to reflect my interior, here you'll find lots of linen, jute bags and muted hues.
I'm obsessed with open shelving, so these shelves help to open the space and also add another element to the room by creating the illusion of higher ceilings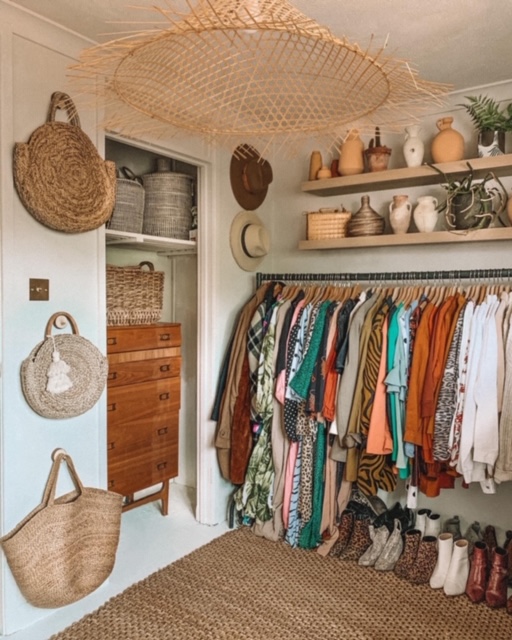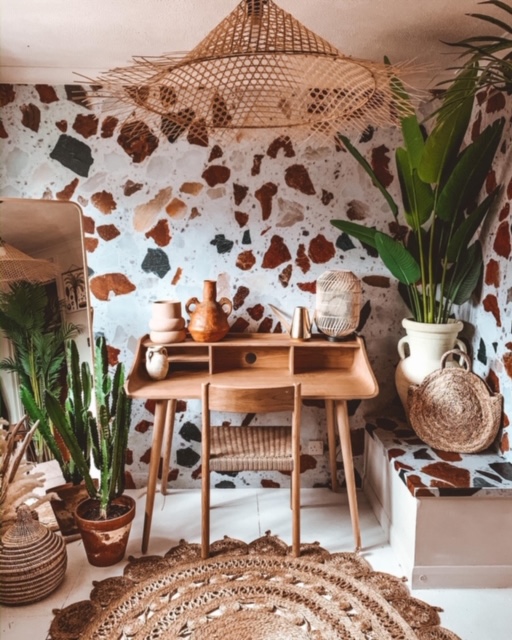 On the opposite side is my work area and I love being surrounded by greenery which I really feel helps to keep the mind focused and feeling motivated. The odd built in box was something that I felt really prevented me from utilising the space previously, so I created this terrazzo wall and extended it to the box so now it makes a cute little seating area instead of going to waste.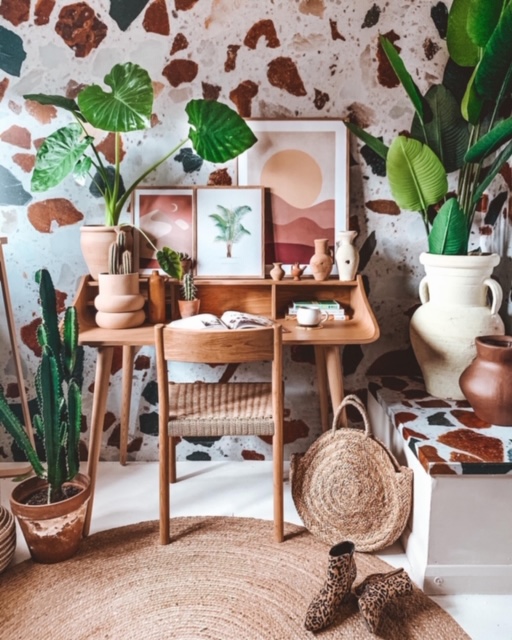 The great thing about the desk space is that it can be re-freshened from time to time to revamp its overall look. I create a lot of my own art work using recycled materials and love to mix them with carefully selected prints to add character to the space.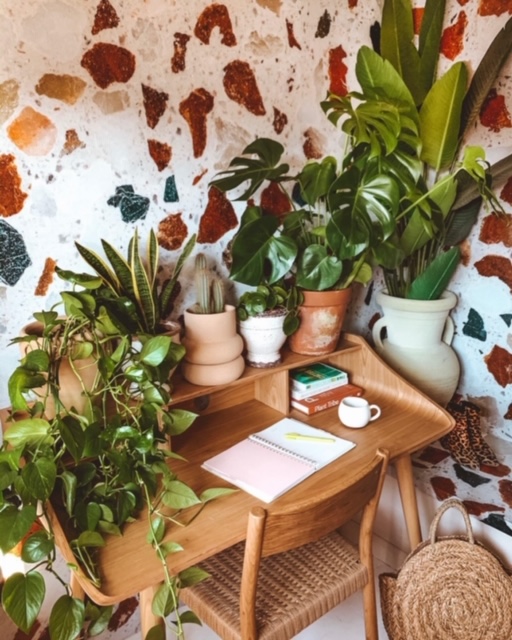 Urban jungle interior
I use and style my plants like pieces of art. Not only do they have a great impact on your mental wellbeing and health, they're also great forms of decor that can really transform the space. My favourite mornings are spent caring for my jungle club whilst the sunlight pours in.
Terrazzo is a print that immediately gives the space a "desert inspired" feel. This vibrant print reminds me of strolling through the winding streets of Mykonos and being on holiday. I believe it's so important to only allow items into your home that you genuinely love, which then avoids the house being full of clutter or things that you don't completely appreciate. I take great care in selecting items for all living aspects, from what I cook with, to what I wash with, to what I eat from.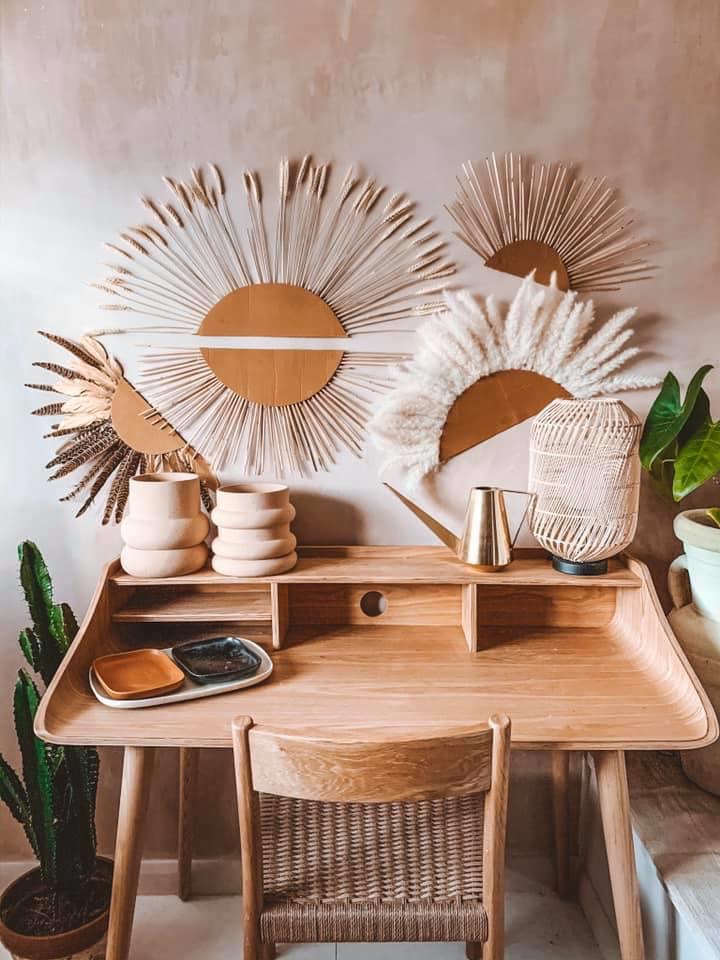 There's so much beauty that can be created for hardly any money at all, over on my Instagram, I show my followers how they too can create this desert inspired wall art from re-using an old cardboard box. Not everyone has a huge budget to work with when styling their home, so I try to think of inventive ways to bring a lease of life into unloved items which in return, can create a unique visual.
I spent months debating what would adorn the walls of our hallway
I spent months debating what would adorn the walls of our hallway, and then one day it came to me and our desert inspired painted wall mural was born! And i used a selection of acrylic paints and old tester pots to create this hand drawn wall mural and now it feels like we have our very own rainbow living inside our home. The design runs all across this wall, over our front door and onto the opposite wall, and when the sunlight pours in it really erupts the space into a warm ball of happiness.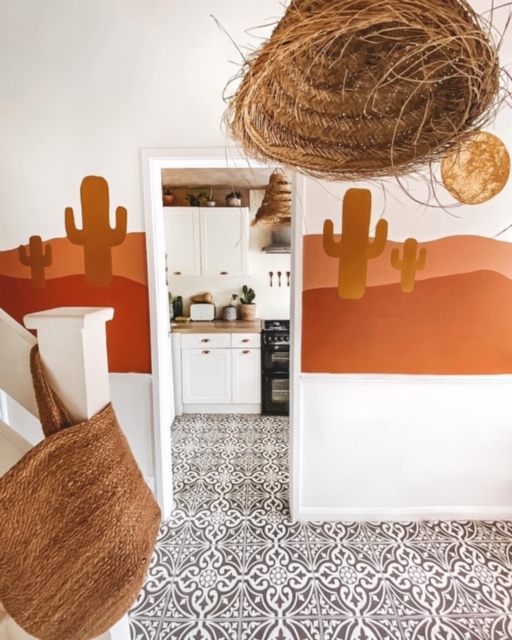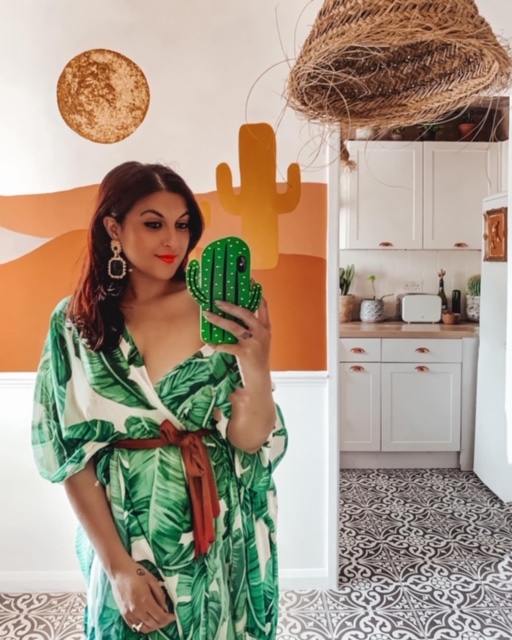 To add a special touch, I added gold leafing to the sun which really reflects in the sunlight and projects golden rays around the room. The great thing about paint is that as soon as you want to change it, you simply just paint over it and start again! I didn't really have a specific plan for this design, I just turned the music up and got creative and now I couldn't be happier with the finished result.
Our kitchen is a cosy space
Our kitchen is a cosy space which is a tad on the small size. One of my favourite features has to be the stone effect wall that I created out of unused paints by layering them up to add texture. Again, we have opted for more open shelving storage to really display our culinary treasures. I have a lot of vintage pieces and souvenirs from our travels in this space, so I wanted them to be displayed In all their glory with open shelves and hanging racks.
I love chunky concrete furniture
Our garden really is a flow on from our interior style. Here you will find huge terracotta and ceramic planters bursting with cacti and other exotic greens. I love chunky concrete furniture, and love spending our evenings chatting away here with loved ones with the fire burning and the festoon lights on. The peacock chair was another second hand find which adds some fun to the space. I'm currently planning another garden revamp as I would love to expand the seating area and create some built in planters for more gorgeous green giants ~ watch this space!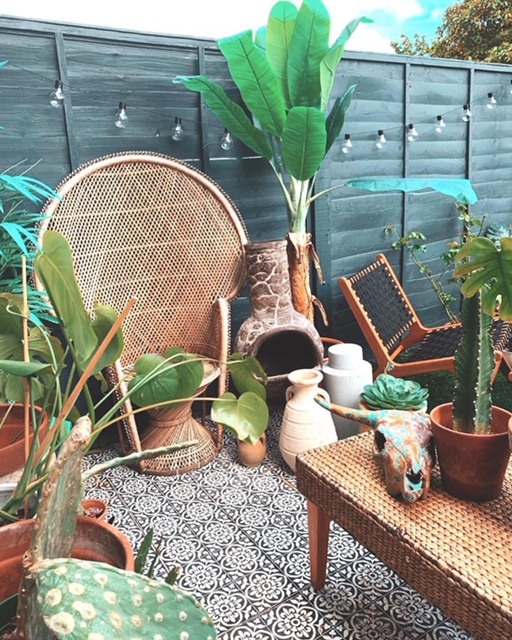 Thank you all!
Did I inspire you? Do you like a Urban Jungle interior? Thank you for taking the time to read about our urban jungle home. I hope it's brought you some joy and inspired you to grow your very own jungle of joy! Our living spaces are so important as that's where we unite with loved ones, unwind, make memories and spend our precious time. A beautiful surrounding doesn't have to cost a lot, it should just be filled with sentimental, adored treasures that'll bring you happiness for a long time to come.
Greetings Natasha